blog
6 Romantic Lodges in Africa
Posted on:October 14, 2019
Geraldine Mills, self-confessed wanderlust, writes about her pick of Africa's romantic lodges for a honeymoon or getaway with your favourite other. To read more of her work, visit her blog Geraldine Walks.
Africa might be on your list when it comes to planning for your honeymoon or just a casual getaway with your partner. Well, this list of seven romantic lodges in Africa might help you to make up your mind.
If you're all for adventure and the road less traveled, this could finally be the chance to explore the land of opportunities. Considering that your options would mostly be safaris, forests and beach lodges, you might want to bring the best luggage perfect for this trip.
Now, if you're ready, it's time to cozy up with your partner and let the wildlife lullaby put you to sleep.
Rhino Ridge Safari Lodge
Who said you can't have the best of both worlds? If you like both the safari and the ocean, Rhino Ridge Safari Lodge is your best bet.
If you plan to surprise your significant other with a trip of a lifetime, this Safari Lodge is the perfect backdrop for a picture-perfect honeymoon spot. In this place, your neighbors would be the wild animals of Hluhluwe iMfolozi Park. I don't think it can get better than that.
You can lounge in your own private pool in your honeymoon villa while enjoying the view of the nearby valleys and mountains.
Thonga Beach Lodge
Waking up to the relaxing sound of the ocean is one of the best parts of a seaside vacation. But it's best spent with the love of your life.
If you're looking for exactly that scene, Thonga Beach Lodge can suit your needs. It's situated on the shores of iSimangaliso Wetland Park which by the way is a UNESCO World Heritage Site. It's a 24-bed luxury lodge, made for long walks at the beach while gazing at the moon—definitely perfect for a romantic getaway.
Kosi Forest Lodge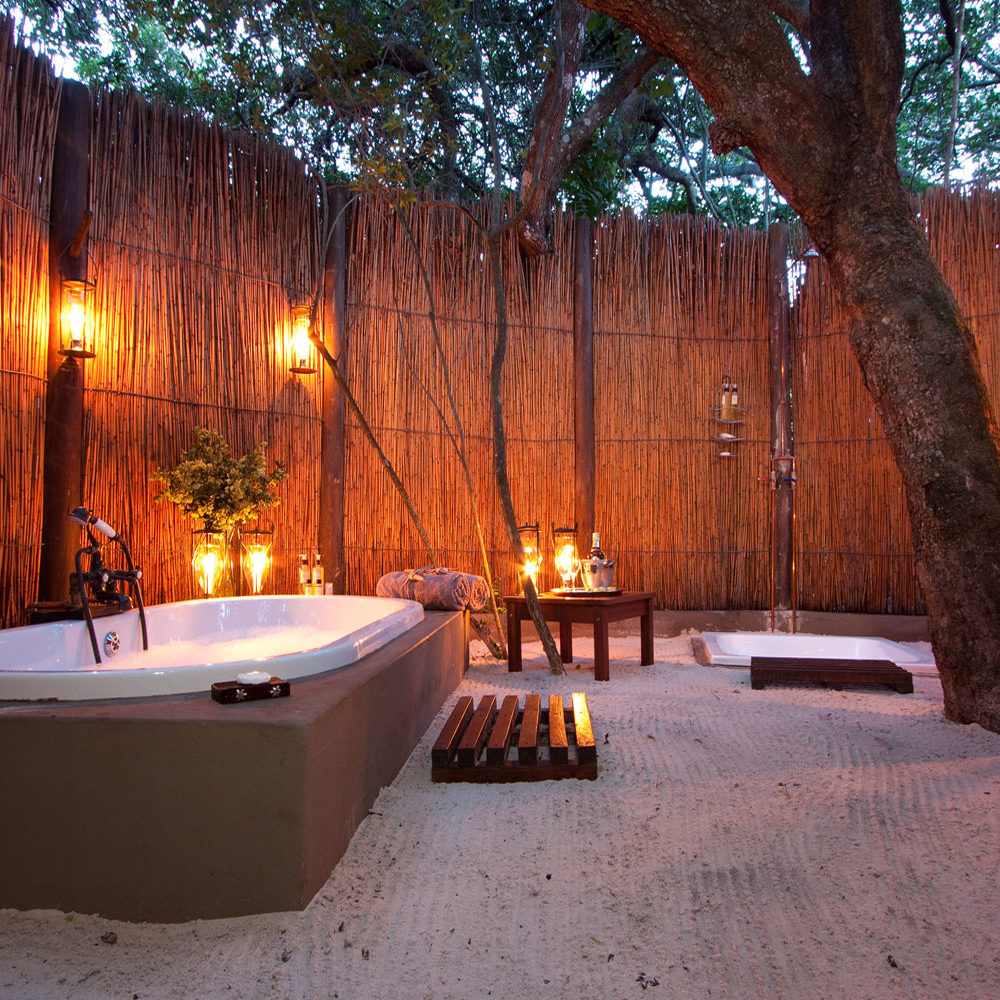 For a more serene setting, try looking at Kosi Forest Lodge in Kosi Nature Reserve Manguzi.
The place is surrounded by incandescent lighting which sets the mood for a calm and romantic vacation. Embraced by forest trees, your rooms will feel like you're secluded from the world. You can also enjoy some time with the hippos in the lake—an item instantly ticked off from your bucket list.
They also have an outdoor bath that's perfect for a place to bond. The forest canopy sets off a vibe as if you and your life partner are the only people in the world.
Sibuya River Camp
Tranquility with a tiny hint of adventure is what Sibuya River Camp is all about. Before you get to this small river camp, you have to ride a boat across the enchanting river of Kariega in the East Cape.
Don't be surprised if you're greeted by a hundred different species of birds. This place is their home. You can even find Knysna turaco right on your doorstep.
Sindabezi Lodge
Sindabezi Lodge is a private island located in the middle of the fourth-longest river in Africa. You enjoy some quiet time here with your other half since they only have five chalets. You might even have the place all to yourselves if you decide to go during the offseason.
There's a private beach that you can visit and laze around. It offers a view of the charming river.
Kariega River Lodge
This river lodge looks a bit modern than your usual African getaway. While it's still within the vicinity of Eastern Cape's wild and lush safari, suites in the Kariega River Lodge exudes a luxurious vibe.
It's the only lodge that connects a Big 5 game reserve to the sea. The natural-looking pool is probably the best part of this sanctuary as it gives vacationers a place to lounge in amidst the blue skies and greeneries.
There's a nearby wildlife safari if you get a little too tired with all the canoodling with your significant other where you can be friends with classic African mammals.
What makes this place even more ideal is that it's also close to the quaint seaside town of Kenton-on Sea where you can relish in romantic walks at the beach.
Africa may be different, but it has an exotic beauty that's hard to resist. Not to mention, it's such a picturesque place to set your love on fire with your significant other.