Posted on:November 27, 2018
Being the cousin-worse-offs, we used to watch with envy how our cousins would get loads of expensive gifts at Christmas, while we were still fortunate enough to get a few thoughtfully chosen, lovingly wrapped ones. I can only imagine what it would be like for a child to get nothing.
Cue the much loved Santa Shoebox campaign, an international effort to bring much-needed happiness to underprivileged children at Christmas time. Isibindi Africa lodges are enthusiastic supporters of the campaign and this year they collected 55 boxes in total. Janet Henri, who is in charge of Lodge Operations, was the driving force behind this.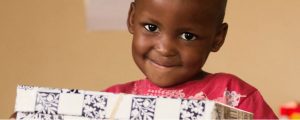 "Says Marketing Manager Penny Rice "I did not realize what a huge organisation this is and it is not limited to South Africa only – it is a world-wide campaign. I dropped 23 boxes last Saturday morning at the Ballito collection point at Curro School in Mount Richemore. What a setup it is! About 20 plus ladies were highly organised like a workshop of Santa Elves! As I arrived there were 2 ladies with a trolley waiting with open arms to help unload the parcels, which were then wheeled through to a photo booth. Each box is scanned in, goes to a lady who checks to see that they meet minimum requirements, and then on to next table where they fill the boxes with extra goodies to ensure each child gets the same amount. Next it moves on to people who repair boxes damaged in transit, then it is re-scanned and put into huge cardboard boxes which are all pre-labelled with a destination on. Finally these are delivered!" #alabouroflove


Children have a strong sense of justice and I love that the boxes are individually checked and balanced out to make sure that each child receives a similar amount and quality of gifts. I can only imagine the delight as they unwrap their box and find fun treasures in each one. I am already starting to collect little treasures for next year…
If you would like to be part of this campaign or make any donations at any time of year to a school or orphanage supporting vulnerable children, please contact us or speak to any one of our staff.


All of the images used in this blog are from the Santa Shoebox Campaign.