blog
Investing in a school worth developing
Posted on:September 5, 2017
As you drive towards Thonga Beach Lodge, past the Cashew Nut Factory, the sand becomes thicker and the homesteads thinner. There is a lovely patch of grassland, with gently undulating hills where the back-lighting of the setting sun lights up each head of grass. Grassland birds with heavy, long tails make sweet sounds. You get the sense that this is a remote and protected piece of earth. And as you round the top of one of these hills, you come across an unpretentious village where the main feature is a pretty and open blue and white school – Mabibi Primary.
Says the hero of our story (though she will object when I use this term) "I was immediately captivated by this school. I can never simply drive past a school and I yelled "Stop!" to my husband. This one stole my heart. It is especially thanks to the wise and well-intentioned headmaster, Mr Ngobese, for whom I keep returning again and again." So started another beautiful journey, where Pie Blight, herself a teacher at her own private school, began to invest in the ongoing development of this school.
With a lot of enthusiastic help from the children, she began by cleaning out classrooms and a packed storeroom. There were documents from the 1960's and books in European languages. The less useful materials were donated elsewhere and the paper was recycled. "It was important to us that the children did not see anything thrown away or wasted." The children had fun going through everything and were very excited to take what they wanted home. Thonga Beach Lodge sent a big trailer and a vehicle to assist.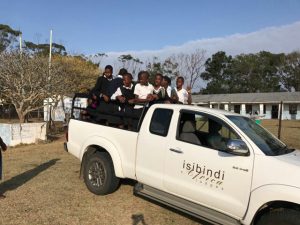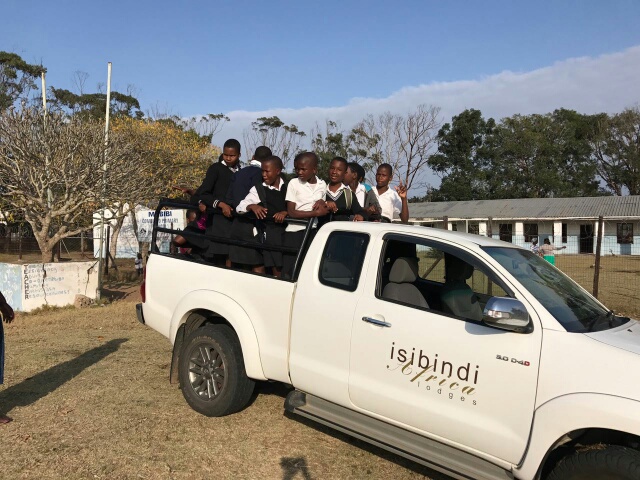 Because the school is in a deep rural area and in a small community, it tends to get neglected in terms of government support. "Yet this is such an important age," says Pie "This is the foundation for all future learning." When the children from this school go to high school, they are now automatically held back a year to catch up. Thus Pie, together with the principal, has developed a step-by-step vision. First they plan to improve the buildings and make the space more child friendly. There are currently no shelves or pinboards and the blackboards are "so rough you go through half a piece of chalk per lesson". Pie has opened a donations account and wants to start a foundation for support to the school. Next they would like to make the computer centre functional again, with ongoing IT support by empowering someone from the community to take on this role. Pie visits the school regularly to facilitate art and language classes.
"The new headmaster is phenomenal and his love for children is shared by all of us – that passion" says Pie. "The children are so receptive. The parents are responsive and happy. It is an investment in these children. It is hard work but I feel happy. It is a clean, proud, gracious community. They are grateful for everything that happens. Everyone in the community knows each other – I have not come across a negative experience yet, and the kids here are happy. This is worth building on and I want to share this with as many people as possible."
Her enthusiasm is infectious and she simply makes you want to be a better human being. Of course says Pie "I am being given more credit than due. Thonga Beach Lodge has a lengthy history of caring about this school. Brett and Paige Gehren from Isibindi Africa Lodges do so much and they are so impossible not to like. Many of the Thonga Beach Lodge staff come from this school originally, and most now send their own children and grandchildren to the school. They are so eager to invest where they can and grateful for any impact that we make together."
Thonga Beach Lodge is funding two assistant teachers and they hope to motivate for the government to fund one teacher per grade. "It will take a long time to upgrade the school educationally" says Pie. But she and the principal have big plans. Pie is already forging links with other local primary schools and has an exciting plan to possibly visit a local developing science centre in Hluhluwe. She is plotting to get ongoing investment from them in the much loved Mabibi Primary School. Watch this space for future dreams coming true thanks to this dynamic team investing in this most beautiful and unspoilt piece of the earth …