blog
One of South Africa's little jewels
Posted on:December 26, 2016
Thank you for this descriptive and most flattering review and delightful photographs Shane and Juli!
"Kosi Forest Lodge, one of South Africa's and KZN's little jewels, exceeds all expectations!"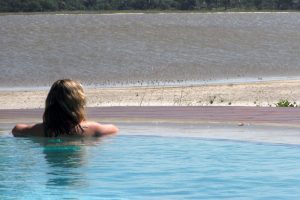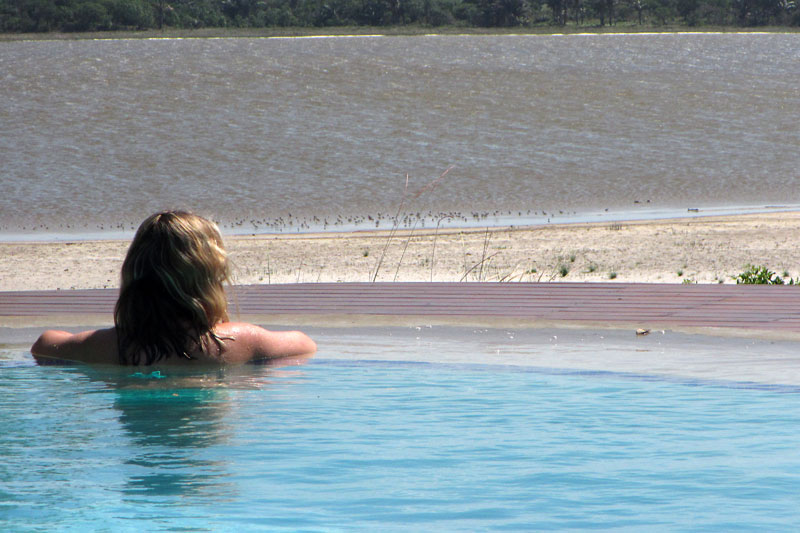 This was our second trip to Kosi Forest Lodge and what better reason to return to this beautiful part of the world than on honeymoon! I am at a loss as how best to describe our wonderful stay, but will start off by saying – faultless and thank you to Discover my Africa and Isibindi for arranging our honeymoon so seamlessly.
The food was delicious. I mean delicious. There was simplicity to it; a blend of great home cooking and fine dining; that far exceeded what I have had at other similar establishments who pride themselves on fine dining. The soups were to die for. So a big thumbs up to all in the kitchen.
The real beauty of Kosi Forest lodge is that you feel so private and secluded in your accommodation.  We were tucked away under the canopy of a large Natal Fig, and every morning were awakened to the chorus of a myriad of birds and a troop of monkeys coming to feed on the summer fruit. Trumpeter Hornbills, Black Collared Barbets, Golden-rump Barbets, Sombre Bull Bulls, Livingstone Turaco, Black Bellied Starlings, and many more frequented the tree. My wife and I particularly enjoyed the serenity of the walks between the lodge and the accommodation. There is something mystical about the dune forests. There were also many different butterflies and a resident Brown Robin to greet us on the pathway before we reached our room. The room was always neatly made up and the bedroom staff obliged our request to always leave the blinds open so we could enjoy the early morning light.
There is something instantly soothing as one walks in to the rooms. In the evenings, after dinner, we were pleasantly surprised to find a large hanging mosquito net covering the king size bed. To top it off, on our second night, the staff had kindly set up the outside bath with candles and flowers and a bottle of bubbly whilst we were out on an activity. We felt like royalty!
Juli, my new wife and I, made the most of all the activities on offer, bar the trip to Kosi mouth. This was largely due to poor weather conditions. We had however experienced the trip 8 years ago, where the day was just perfect and we got to see the most amazing sea life in the river mouth. It was a truly unique experience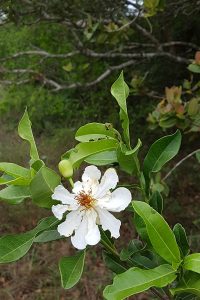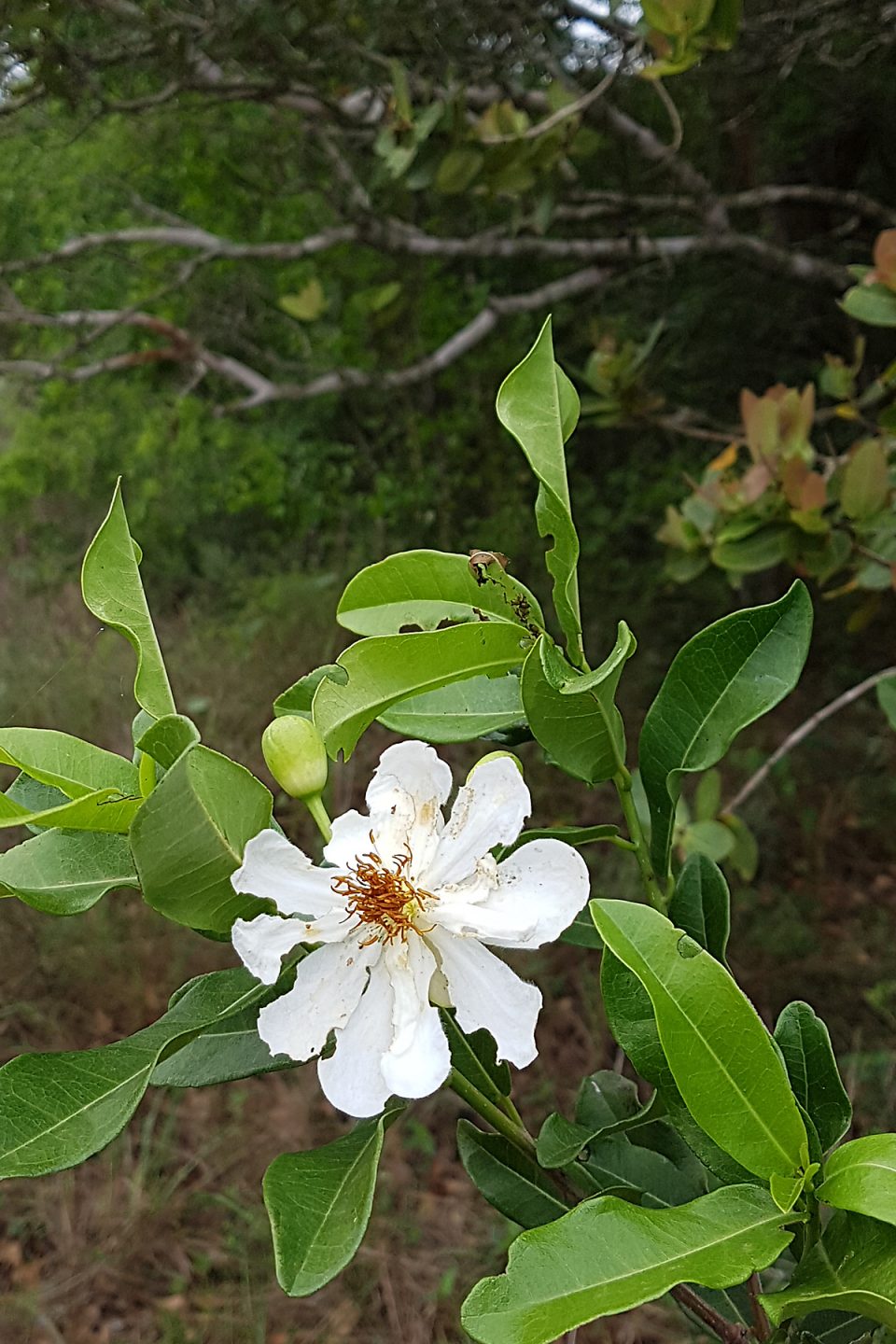 We enjoyed the self-guided walk around the perimeter of the lodge enjoying the peace and quiet of what the dune forests offer, ending off with a glass of wine at the swimming pool, this being a new addition to the lodge since our last visit. It's a wonderful place to relax while watch the setting sun, with flamingos feeding on the shoreline and a few hippos getting restless before coming out for their night feeds. I even saw my first Eurasian Curlew feeding along the water's edge along with a small flock of African Spoonbills in the early evening as we enjoyed sitting by the pool.
Our guide George – a super gentleman and an avid birder, took us on a couple of canoe trips on Amanzimnyama (translated as Black Water), a deep and dark river that feeds the lakes. The short 20 minute walk to the river through the dune, swamp and raffia forests was enlightening. George, binoculars in one hand, paddle in the other  was entertaining along the way, freely imparting his knowledge about the vegetation types, uses of various medicinal plants and then stopping every so often to point out a few of the forest birds, usually from their calls. We even had a fleeting glimpse of a beautiful Narina Trogon as it responded to one of his calls.
My mission was to have my first sighting of the rare and elusive Pels Fishing owl. George, over the 16 odd years spent at Kosi Forest Lodge has had numerous sightings, but luck was not with us on this trip. We were however rewarded with a small flock of African Pygmy Geese, African Jacana, Palmnut Vultures, Fish Eagle, Little Bittern, Black Crake, numerous African Darters, Samango Monkeys, and a wonderful sighting of a pair of White-Backed Night Herons, tucked away deep inside some Raffia palms along the river's edge. How George spotted them is a mystery! That was probably my birding highlight of the trip as I had only ever seen them on one other occasion. To end off the boat trip we stumbled across a tiny green Reed Frog which obligingly posed for numerous photos.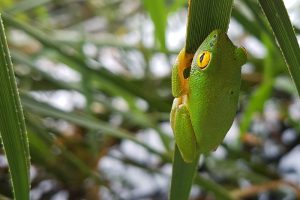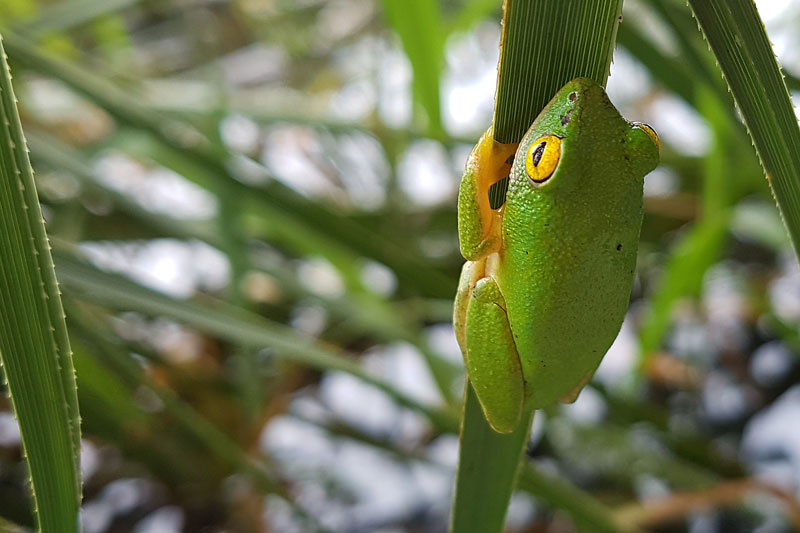 Our boat trip was lovely too, although I still prefer being closer to nature with my feet on the ground or my rear perched in the seat of a canoe. George guided us through all the lakes and we even got to see a few of the local fishermen, scantily clad, spearing their days catches that had been caught inside the fish traps. White-Bellied Cormorants were close at hand to steal a few tidbits.
We got some close views of a pod of hippos and then had a brief snorkel in one of the shallow channels joining the lakes. There we saw first- hand the thousands of baby fish that are hatched in this unique fresh and salt water breeding ground for many different fresh and salt water fish. This was the highlight of Juli's stay.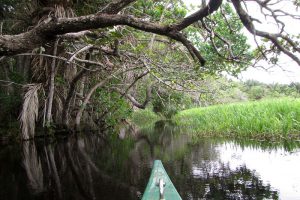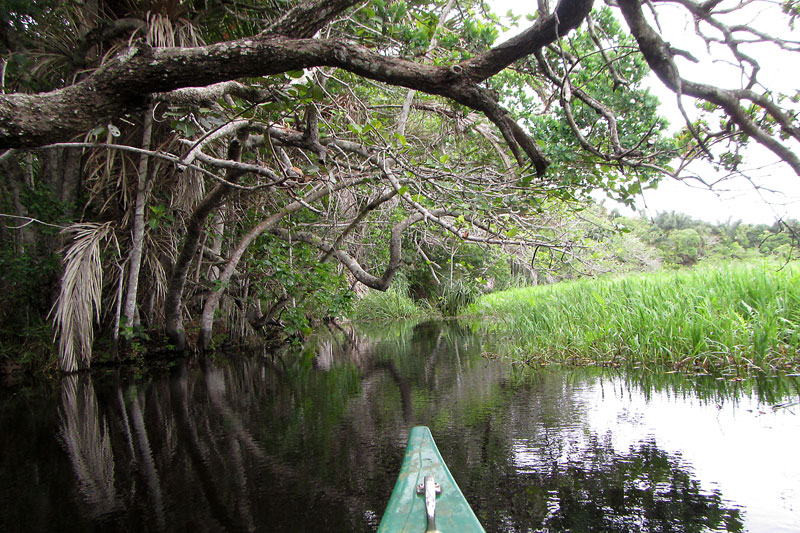 We then headed across to the eastern side of the lake where George moored the boat. From there we took a 10 minute stroll to Banganek. We had plenty of time to enjoy a walk, causing hundreds of ghost crabs to scatter into the small waves and the rest to scamper up the beach to their holes. We had a short snorkel, enjoyed lunch and watched a Palmnut vulture land on the beach and start feeding on what might have either been a dead fish or crab.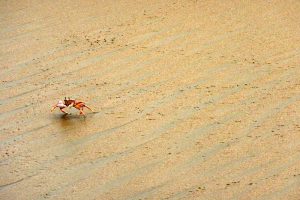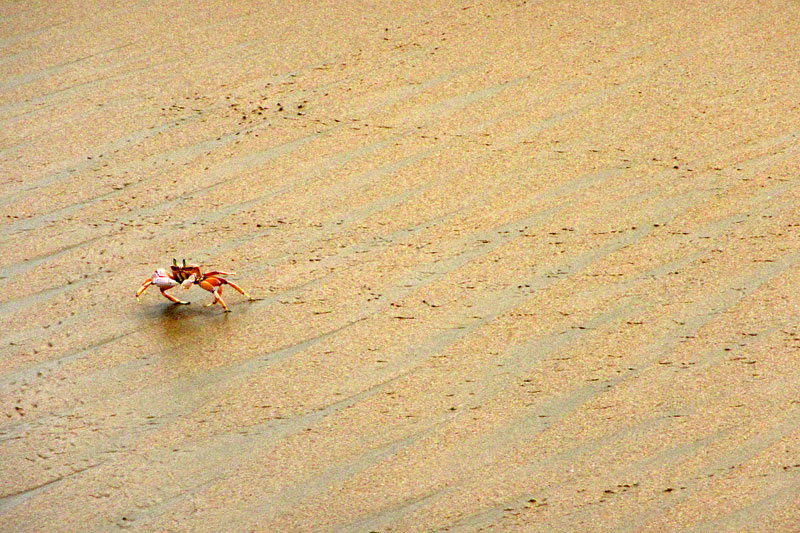 Our stay was enhanced by the great meals and the friendly and attentive staff whose thoughtful gestures and attention to detail made our honeymoon truly memorable.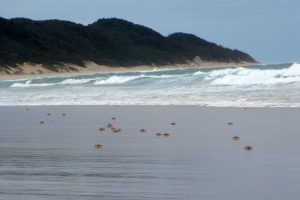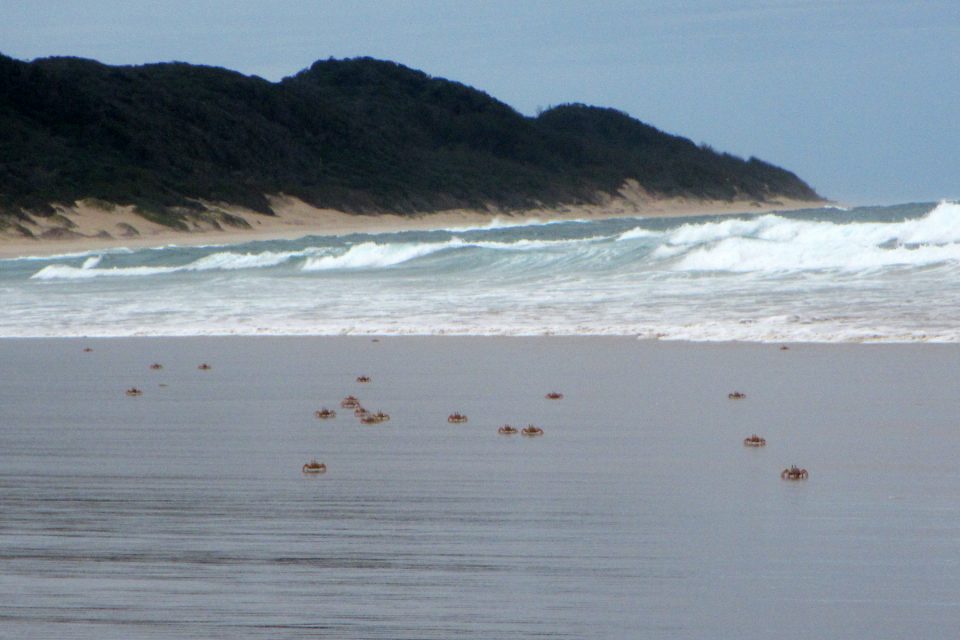 All in all, Kosi Forest Lodge, one of South Africa's and KZN's little jewels, exceeded all expectations.
We hope to return to the lodge again one day.
Shane and Juli Doyle