blog
We love it when guests love it when they visit our community's school!
Posted on:September 6, 2018
Guests staying at Thonga Beach Lodge have the opportunity to visit a tiny little school which is near and dear to the lodge: Mabibi Primary School. Thonga Beach Lodge has several community projects which they facilitate with the school, including: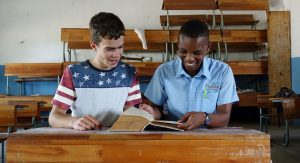 Another favourite project is when guests visit the school and see a need to which they would like to respond with a donation. We recently received a visit from the Boedrich family who brought a much-appreciated donation of books to the school. Harald then took the time to send us this letter and some photographs of their visit. Thank you Boedrich family for your care.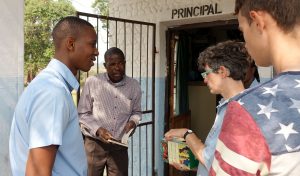 Dear All,

During our stay at Thonga Beach we had the opportunity to visit Mabibi Primary School and hand over some books to the Principal.
We appreciated the Cultural Tour very much. It was a great experience for all of us: My wife is a teacher (biology and chemistry, High School), my son is a pupil (in High School) and I listen every evening to their events of the day. So school is very dominant in our daily life. Thank you very much for this insight!
Best regards
Harald Boedrich